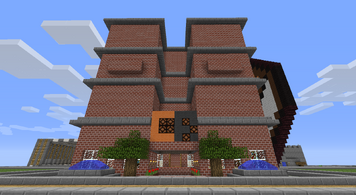 The CR School, created by Matthew100x, is a place of teaching and learning.  Founded on the idea that everyone should have a chance, the building's purpose is to help the newer members to familiarize with the server.  This is the second school built, as the first was lost in the last reset.  All services are free and all teachers have been confirmed to be highly proficient in their designated areas.
History of the School
The school has always been very popular with the public and staff.  Matthew100x built the school sometime in February, after becoming annoyed with the large amounts of incorrect ban requests and other newbish mistakes.  He wanted to make something so people could learn how to do things the correct and proper way, and decided on a school.  The first school was very popular and had a good crew, among the crew is the retired staff consisting of Kyrie_Awayuki, RatedPforPwnage, and the Doctor.  Construction was started on a larger school but was lost in the last reset.  After the reset, Matthew100x was demoted and couldn't build, when a good friend donated him back to titan he was determined to remake the school, even bigger and better then the last.
The Present School
The new school, now in current time, has been fully constructed and is waiting for final resources and preparations to be completed so it can open.  Textbooks, a gym, and a cafeteria are all new rooms to the school.  Most of the teachers have been picked out and hard work is being put into it being opened.  The school opening is delayed due to severe damage to the building thanks to a bug in plotme.  New features that will be set later is substitute teachers, a class schedule, cafeteria lunches, and school sports are going to be added in eventually.
The Teachers
Principal  Matthew100x

Vice Principal Mike_Hatake

Economics KrayKray007 Matthew100x [on occasion]

Environmental Science [hiring full teacher] Matthew100x [on occasion]

Essentials Guppy598

CR Law and Order Matthew100x

Redstone Remy

Mob Strategy Vitalh Coneville

Lecture Class VideoGamePro222

Structural Build and Design Class   Smelliot1896

Craftrealms History HeyItsMrT

Gym/PvP class Letecimedo
If you need any other info visit me here http://www.craftrealms.com/profile/2301245 all info related to the school will be posted here. Matthew100x (talk) 03:49, April 28, 2013 (UTC)Matthew100x
Ad blocker interference detected!
Wikia is a free-to-use site that makes money from advertising. We have a modified experience for viewers using ad blockers

Wikia is not accessible if you've made further modifications. Remove the custom ad blocker rule(s) and the page will load as expected.