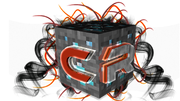 This is the official wiki for the CraftRealms server, one of the largest cracked Minecraft servers, owned by Pr0Acid.
Wiki
This wiki was created by ddoogejun, better known as Doctor.
He is one of the head staff members of CraftRealms.
This Wiki will include guides for new players, rules, and the general ins and outs of CraftRealms as well as its history.
Currently, this wiki is staffed by Matthew100x and Doctor.