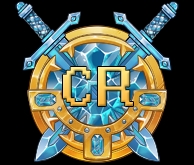 Welcome to the CraftRealms Wiki
Welcome to the CraftRealms Wiki, the wiki of one of the fastest growing cracked Minecraft communities. Here, you can learn about our wonderful Minecraft community!
Visit our website at:
NOTE: This Wiki is highly outdated!
Our Servers
Server IP: mc.craftrealms.com
CR Pixelmon IP: pixelmon.craftrealms.com:25562
To add one of our servers to your Minecraft Multiplayer Server List, Highlight and copy the IP above (Windows Shortcut: Ctrl+C), open Minecraft, click 'Add Server' in Multiplayer area of your Minecraft, paste it (Windows Shortcut: Ctrl+V), and click 'done.'
Announcement:
The wiki is now being revised and revamped by the current CR Staff Team! If you would also like to help contribute to the wiki, inform the CR Staff.
Ad blocker interference detected!
Wikia is a free-to-use site that makes money from advertising. We have a modified experience for viewers using ad blockers

Wikia is not accessible if you've made further modifications. Remove the custom ad blocker rule(s) and the page will load as expected.